Elevating the conversation about all things tactical.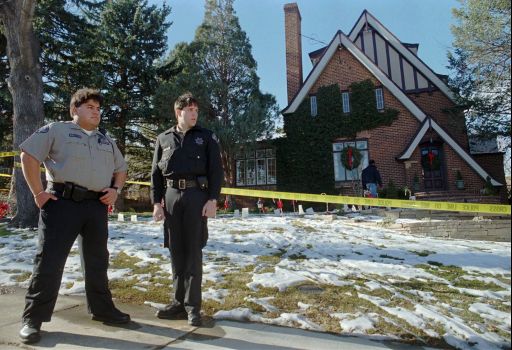 In the mid-90s a little girl was reported to be kidnapped but was later found dead in the basement of her large, Boulder CO home. The case remains unsolved today, and several procedural errors on behalf of the officers and investigators who responded to the scene tainted our best chances to identify and prosecute Jon Benet's killer. Many believe the parents or her older brother were to blame. A sex offender claimed to be responsible but there wasn't sufficient evidence to prove it. Some think that the family's wealth and political ties had something to do with it. We may not ever know the truth. Mike and Jim give a synopsis of the event and talk about some of the mis-steps that might have helped detectives solve the mystery.
read more
Chief Master Sergeant Keaton shares some stories with us, including the time he won the Pitsenbarger Award after saving the lives of 5 women and children who were used as human shields by an enemy force in Afghanistan. Along the way he illustrates some lessons learned and leadership pointers that he picked up while leading some of America's most elite operators throughout his 30 year career working in special operations as a PJ and reaching the highest enlisted rank in the United States Air Force. 
Some of you might have experienced a crisis that was later described as a "Charlie Foxtrot," which is an acronym for the sort of situation known for being chaotic, overwhelming, and difficult to manage. Mike and Jim discuss the doctrinal definitions of fog and friction and talk about some coping strategies and training philosophies that will help you deal with these kinds of problems.
Dr. Daniel Blumberg is a licensed clinical psychologist and professor who has spent over 30 years working with several law enforcement agencies in the realm of pre-employment screenings and services related to police officer wellness, ethics, and resilience. His research has shined a light on many of the moral risks that affect those of us in law enforcement: what they are, how they are related to critical incident stress, and what the implications are for police leaders and trainers.
How do the rules change when you go from sports to the street? What changes on the ground vs. standing up? How should you apply your nunchuck skills in the context of self-defense? Mike and Cecil talk about all things martial arts and how they fit in to street fighting in real life. He specializes in an interdisciplinary approach to entanglement and close-range fights where weapons – including your own – are in play.
John Huston was one of the first Americans to successfully complete an unsupported expedition to the North Pole. His expertise in cold weather survival and expedition planning has led him to opportunities training Special Operations Forces and he uses his experience as public speaking and training curriculum related to high-performing teams, operational planning and risk management, leadership, teamwork, and more. As a bonus, John also works with Sled Dogs, which is just cool.
In April 1970,  4 California Highway Patrolmen were killed by two men after an armed road rage incident. Those men were career criminals in the planning stages of a robbery attempt who were heavily armed. This incident had a ripple effect for police agencies across the country that led to significant progress in the realm of firearms proficiency and officer safety.
While you don't need to deep dive all of the science here, you do need to understand the tactical implications of a fight or flight response as it relates to training, perception, memory, and attention. Mike and Vivian discuss muscle memory, building good habits, perceptual distortions, and ways to enhance our performance under stress. 
Jim breaks down some fundamentals for how to turn Sun Tzu into operational reality with the handy acronym MOSSMOUSE. This is useful in any sort of fight or conflict in which you want to use tactics and strategy instead of just brute force or power to fight your way through it. How can you apply it to your situation? 
We have been following our buddy Isaac's career into law enforcement and it turns out, he's got big news about where his career is headed. Hear what his plans are, what his favorite stories as a cop has been, and what advice he would give to someone new to the profession. 
Mike and Jim discuss one of the most controversial figures in tactical thought: LTC Dave Grossman.
If you look around any professional workplace, you will see several types of leaders–by that I don't just mean differing leadership styles, although that is part of it–I am talking about the types of leaders in a group who make the difference between a "loose gaggle" and a high-performance team. This discussion is going to focus on the informal leaders–the unappointed low- or middle-man who makes a difference. A new or inexperienced member of the group might be the type of person who owns their mistakes, never makes excuses, and humbly accepts criticism. You might be asking yourself, doesn't that just make them a good follower?
BURNING ALIVE If you read some of the news articles about the recent apartment fire in...
BALANCE: THE TOTAL PACKAGE We have a saying in dog training that you don't fix one problem without...
read more
THREAT ASSESSMENT; Threats of harm should always be taken seriously, but in many cases the person making the threat is only trying to exploit their victim or elicit a reaction for a perceived wrongdoing.
read more
TWO TYPES OF LEARNERS Psychologist Carol Dweck is known for her work on implicit theories of...
read more
Dog Training: Markers Maybe less tacti-cool than you're used to, but enough people have dogs that...
read more
SITUATIONAL LEADERSHIP This leadership model was created by a couple of psychologists named Hersey...
read more
ASK, TELL, MAKE: STILL WORKS In the police academy, we learned this decision-making algorithm for...
read more
REMEMBER RICK RESCORLA For this week's bulletin, I thought I'd share a Facebook post I wrote on...
read more