Elevating the conversation about all things tactical.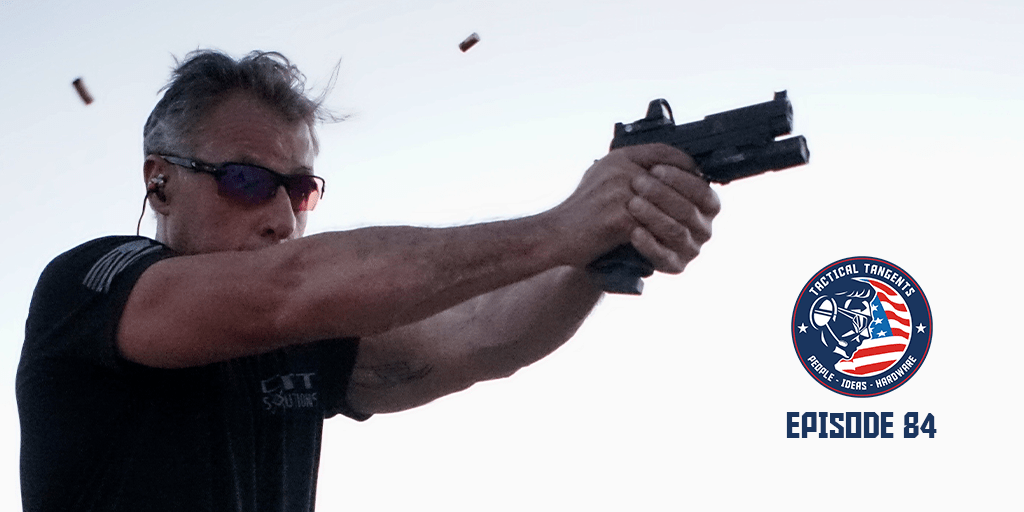 "Noner" shares some real talk about training fallacies and mental preparation for combat. Mike Pannone of CTT Solutions spent years as a Recon Marine, Special Forces Soldier, and SFOD-D Operator. After losing an eye from a blast injury he medically retired and worked as a high-risk contractor overseas and now spends most of his time training people all over the world. "Noner" shares some pearls of wisdom related to mental conditioning, theories and assumptions in tactics, and skills competence.
read more
John Huston was one of the first Americans to successfully complete an unsupported expedition to the North Pole. His expertise in cold weather survival and expedition planning has led him to opportunities training Special Operations Forces and he uses his experience as public speaking and training curriculum related to high-performing teams, operational planning and risk management, leadership, teamwork, and more. As a bonus, John also works with Sled Dogs, which is just cool.
In April 1970,  4 California Highway Patrolmen were killed by two men after an armed road rage incident. Those men were career criminals in the planning stages of a robbery attempt who were heavily armed. This incident had a ripple effect for police agencies across the country that led to significant progress in the realm of firearms proficiency and officer safety.
While you don't need to deep dive all of the science here, you do need to understand the tactical implications of a fight or flight response as it relates to training, perception, memory, and attention. Mike and Vivian discuss muscle memory, building good habits, perceptual distortions, and ways to enhance our performance under stress. 
Jim breaks down some fundamentals for how to turn Sun Tzu into operational reality with the handy acronym MOSSMOUSE. This is useful in any sort of fight or conflict in which you want to use tactics and strategy instead of just brute force or power to fight your way through it. How can you apply it to your situation? 
We have been following our buddy Isaac's career into law enforcement and it turns out, he's got big news about where his career is headed. Hear what his plans are, what his favorite stories as a cop has been, and what advice he would give to someone new to the profession. 
Mike and Jim discuss one of the most controversial figures in tactical thought: LTC Dave Grossman.
Jim interviews Lt Dave from the US Army about his experiences as a young officer and what it means to lead troops and face off the Russians in Eastern Europe. He talks about his relationship with senior NCOs, the differences between different commissioning sources, and how his job as a Combat Engineering Officer fits into the big picture for large scale combat operations.  
episode 67 HOW TO THINK LIKE A TACTICIANWe've been building up to this concept to help raise the...
episode 66 YOU CAN'T HANDLE THE TRUTH!What Police Officers Need To Know About Going to Court, and...
This episode isn't for hardcore fitness gurus, it's for the people who realize they need to get up off the couch, watch what they eat, and take those first steps toward getting in shape. We wanted to address fitness from the beginning for those folks who don't fitness good. These are the basic things you need to understand about losing weight and getting in shape. It starts with getting over the mental hurdles you put in your own way, and then setting manageable goals and expectations. Down the road, we'll follow this up with more serious fitness talks but if you need a place to get started, start here.
With some reasonable preparation, proportional to your personal risk of having to fight at night — you can use the darkness to gain and maintain gross overmatch. Start by sorting out your own personal risk, which should drive your investment in training and equipment. Consider both technical and non-technical ways you can improve your ability to see and screw with your adversary's ability to see.
Traffic stops are dangerous and unpleasant. A lot of forces converge to make traffic stops dangerous: cops get killed on traffic stops, so they are anxious about them, some communities feel unfairly targeted and perceive a risk from the police, and everyone is at risk to distracted and drunk motorists passing by the stop. No one likes being pulled over, especially if they don't trust the police. There has to be something we can do to make this whole thing safer and easier for everyone
The subtle, contextual cues that guide our instincts are often tough to put our finger on, but they are also the reason we might approach one person or situation differently than another. The last thing we want to do is leave those decisions up to someone else's interpretation. It is difficult to teach what stress, deception, and threatening body language look like in training.
One of the key flaws in civilian tactical training is how much time and effort we put into shooting and fighting skills and how little time and effort we put into conflict resolution. If all we teach is shooting, and the one tool in your "toolbox" is carbine skills, then the whole world might tend to look like a shooting range to you. That is a dangerous habit pattern…
In July 2016 a police officer in Minnesota stopped a car and the driver informed the officer that he was armed. The driver was apparently reaching for his wallet, but the officer perceived that he was reaching for the gun. The officer gave him instructions to not reach for it, the driver said that he wasn't, and somewhere in the mix the officer shot and killed him. The driver's name was Philando Castile. The officer was charged with manslaughter but was acquitted by a jury. He was fired by his agency.
Poor writing kills cops. It kills cops because it doesn't play well in the media or in court. That stilted pseudo-professional way of writing in passive voice makes cops sound intentionally opaque, robotic, and incompetent. Bad writing invites scrutiny, ridicule, and enhanced oversight by people who are far-removed from tactical reality…
Every gun guy (and lady) has thought about how they might have to confront an intruder coming into their house.  Too many times, when talking home defense, I have heard the conversation go to that universal language of the pump shotgun
3 Key Lessons from Tactical Aviation In my military career, I have sat through A LOT of training....
One of the patterns we have noticed lately is how intense the tactical community's relationship with fads can be. The Sheepdog analogy is a useful way to help a young soldier or cop begin to understand that they have to be prepared to do violence, but in a constrained way. It tends to fall apart when taken too far, though. The Spartan legacy is useful in inspiring toughness – but that doesn't mean you have to run around wearing a helmet and shield. In the tactical training telephone game, good ideas can morph into rules and then into obsessions, and in the process, they can lose their utility. One of the big ones is the 21-Foot Rule.
One of the popular models in tactical decision making is the OODA loop, which stands for Observe, Orient, Decide, Act. A lot of people tend to over-simplify this concept. They view it as a linear cycle, or a checklist–as if you move from one step to the other. It is a lot more complicated than that. Our individual orientation–which is a product of our identity, training, experience, and our moral compass–drives each step of the process. It controls not only what we see, but where we look. It controls not only what we decide, but provides us with an index of solutions. It describes a two-way interaction with our environment, and shows us that our adversaries have an Orientation, too.
SPHERES OF INFLUENCEI was at an instructor conference last week and it occurred to me that police...
read more
BACKUP GUNS: YAY OR NAY?Back in the day, I carried a secondary gun at work because, well, I guess...
read more
MANTIS: IMPROVING YOUR SHOOTING WITH DATAWe are excited to announce our new sponsor, Mantis. The...
read more
"THE GLANCE IS THE BEEP"I want to convey a great teaching point that I learned from John Correia...
read more
USE OF FORCE IN SELF DEFENSETrying out a new format for the bulletin, we need your feedback! Leave...
read more
CAREFUL WITH THAT THING!There's a video going around that shows a group of officers clearing a...
read more
FIGHT OFF THE X: Tactics for actions upon contact with a lethal threat in an ambush have remained relatively unchanged since I began my professional life in a world where something like that was a reality…
read more