Elevating the conversation about all things tactical.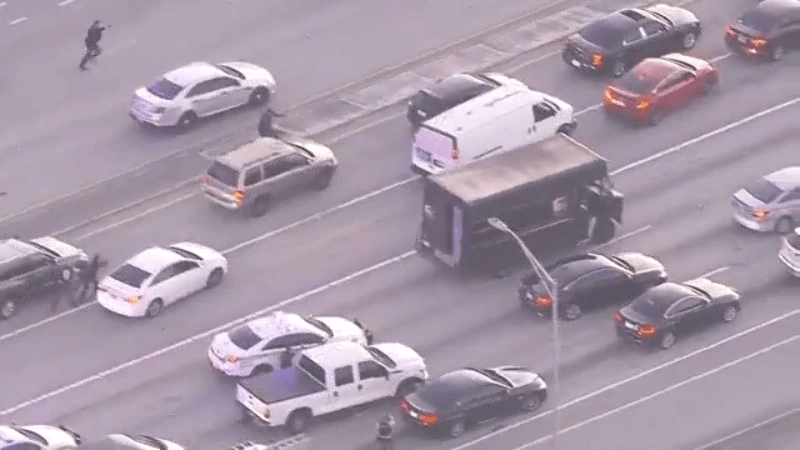 In 2019 there was a big shootout between cops and some armed robbery suspects who carjacked and kidnapped a UPS driver in Florida. Both suspects were killed, as well as the UPS driver and another motorist. Mike and Jim talk about gunfighting principles for cops, and how important it is to have discipline, team cohesion, and a plan when bullets start flying.
read more
Jim Interviews Caroline Reynolds, a licensed clinical social worker specializing in domestic violence intervention. Caroline shares expert advice for police response, helping a victim, encouraging cooperation, and cooling down an argument before it escalates. We also discuss special messages for police and military families and leaders facing a domestic abuse case.
De-escalation shouldn't mean accepting more risk. Here are some ways to extend an olive branch and give people a peaceful way out without sacrificing anyone's safety. With adequate skill proficiency and good tactics to mitigate danger, we can create the physical and emotional space needed to think through these difficult problems. We have to be able to get past our egos and defense mechanisms to a place where we can safely engage community members with respect, and earn respect in return.
The Mantis is a family of firearms training tools that work for live and dry fire. Learn how the Mantis gives feedback to help shooters and instructors at all levels in this interview with Austin Allgaier. Mantis is a product that we really believe in and we encourage novice and advanced shooters alike to use the Mantis to take their firearms proficiency to the next level. Hear about ways it can help you in this bonus episode. 
Two High School students carried out one of the most well-known but least understood rampage murders in 1999 that led to a paradigm shift in Active Shooter response in American Law Enforcement and public safety. One of the lesser known facts of this politically charged event was that the attackers carried 99 explosive devices into the school with them at the outset of this attack, and the ripple effect of lessons learned related to rampage murder tactics and doctrine are still being tweaked with today. There are critical messages to hear about this event for everyone to include teachers, parents, public safety personnel, and anyone serious about survival or self-defense.
The value of air support in law enforcement, EMS, and America's fighting forces cannot be understated. Hear about Jeff's journey in police and EMS aviation and ways you can prepare if you are aspiring to a career as a pilot in one of these demanding careers. We talk about ways the balcony-view in the sky can affect the outcome of critical incidents on the ground, some pursuit and medevac stories, and things senior leaders need to understand about commanding a specialized unit. 
FBI Agents Grogan and Dove tragically lost their lives in the infamous shootout in Miami between multiple FBI Agents and 2 bank robbers. The lessons learned, and technology that arose in the aftermath are still felt to this day 30+ years later. Jim and Mike are joined again by Vince and they discuss some of the incident and what changes law enforcement experienced as a result of this tragic shootout.
Keeping bad guys out of your home and away from your family is a core task for anyone serious about defense. Mike and Jim talk us through how to layer your security to make sure you have the unfair advantage.
Sometimes the skills you need to be a professional have less to do with your actual job and more to do with, well, everything else. Put money away for retirement. Have a backup plan. Have a healthy marriage and life at home. Get a hobby. Taking care of your own wellness and the people around you are what help you be a high-performer at work. All the knife hands and shooting drills in the world won't help you be successful if you don't show up to work in a state of mind to focus on all the cool stuff.
Ryan Wyatt is a flight paramedic who has worked on air and ground ambulances, in a trauma center, and overseas. After time spent as a Navy Corpsman, Ryan also deployed to Iraq as a private military contractor flying on Littlebirds doing medevac work. Hear about the time his Littlebird went down behind enemy lines and more.
Countries, terrorist groups, and various shady actors have developed their information warfare capabilities into an effective weapon. They are counting on you to be a sucker – Jim & Mike will help calibrate your BS detector to keep them from wielding active influence measures against you.
With some reasonable preparation, proportional to your personal risk of having to fight at night — you can use the darkness to gain and maintain gross overmatch. Start by sorting out your own personal risk, which should drive your investment in training and equipment. Consider both technical and non-technical ways you can improve your ability to see and screw with your adversary's ability to see.
Traffic stops are dangerous and unpleasant. A lot of forces converge to make traffic stops dangerous: cops get killed on traffic stops, so they are anxious about them, some communities feel unfairly targeted and perceive a risk from the police, and everyone is at risk to distracted and drunk motorists passing by the stop. No one likes being pulled over, especially if they don't trust the police. There has to be something we can do to make this whole thing safer and easier for everyone
The subtle, contextual cues that guide our instincts are often tough to put our finger on, but they are also the reason we might approach one person or situation differently than another. The last thing we want to do is leave those decisions up to someone else's interpretation. It is difficult to teach what stress, deception, and threatening body language look like in training.
One of the key flaws in civilian tactical training is how much time and effort we put into shooting and fighting skills and how little time and effort we put into conflict resolution. If all we teach is shooting, and the one tool in your "toolbox" is carbine skills, then the whole world might tend to look like a shooting range to you. That is a dangerous habit pattern…
In July 2016 a police officer in Minnesota stopped a car and the driver informed the officer that he was armed. The driver was apparently reaching for his wallet, but the officer perceived that he was reaching for the gun. The officer gave him instructions to not reach for it, the driver said that he wasn't, and somewhere in the mix the officer shot and killed him. The driver's name was Philando Castile. The officer was charged with manslaughter but was acquitted by a jury. He was fired by his agency.
Poor writing kills cops. It kills cops because it doesn't play well in the media or in court. That stilted pseudo-professional way of writing in passive voice makes cops sound intentionally opaque, robotic, and incompetent. Bad writing invites scrutiny, ridicule, and enhanced oversight by people who are far-removed from tactical reality…
Every gun guy (and lady) has thought about how they might have to confront an intruder coming into their house.  Too many times, when talking home defense, I have heard the conversation go to that universal language of the pump shotgun
3 Key Lessons from Tactical Aviation In my military career, I have sat through A LOT of training....
One of the patterns we have noticed lately is how intense the tactical community's relationship with fads can be. The Sheepdog analogy is a useful way to help a young soldier or cop begin to understand that they have to be prepared to do violence, but in a constrained way. It tends to fall apart when taken too far, though. The Spartan legacy is useful in inspiring toughness – but that doesn't mean you have to run around wearing a helmet and shield. In the tactical training telephone game, good ideas can morph into rules and then into obsessions, and in the process, they can lose their utility. One of the big ones is the 21-Foot Rule.
One of the popular models in tactical decision making is the OODA loop, which stands for Observe, Orient, Decide, Act. A lot of people tend to over-simplify this concept. They view it as a linear cycle, or a checklist–as if you move from one step to the other. It is a lot more complicated than that. Our individual orientation–which is a product of our identity, training, experience, and our moral compass–drives each step of the process. It controls not only what we see, but where we look. It controls not only what we decide, but provides us with an index of solutions. It describes a two-way interaction with our environment, and shows us that our adversaries have an Orientation, too.
SPHERES OF INFLUENCEI was at an instructor conference last week and it occurred to me that police...
read more
BACKUP GUNS: YAY OR NAY?Back in the day, I carried a secondary gun at work because, well, I guess...
read more
MANTIS: IMPROVING YOUR SHOOTING WITH DATAWe are excited to announce our new sponsor, Mantis. The...
read more
"THE GLANCE IS THE BEEP"I want to convey a great teaching point that I learned from John Correia...
read more
USE OF FORCE IN SELF DEFENSETrying out a new format for the bulletin, we need your feedback! Leave...
read more
CAREFUL WITH THAT THING!There's a video going around that shows a group of officers clearing a...
read more
FIGHT OFF THE X: Tactics for actions upon contact with a lethal threat in an ambush have remained relatively unchanged since I began my professional life in a world where something like that was a reality…
read more