Elevating the conversation about all things tactical.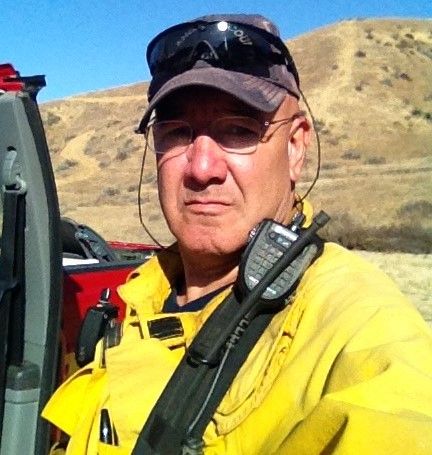 Major League Baseball, Stanford University, 10th Special Forces, and Los Angeles County Fire are just a few of the organizations Fernando Montes has served as an exercise physiologist and sports performance coach in some capacity. He currently works with firefighters, especially wildland crews and academy recruits. Mr. Montes talks to us about the mental side of training, heat acclimatization, hydration, supplementation, and more based on four decades of experience working with a broad range of tactical and professional athletes.
read more
The value of air support in law enforcement, EMS, and America's fighting forces cannot be understated. Hear about Jeff's journey in police and EMS aviation and ways you can prepare if you are aspiring to a career as a pilot in one of these demanding careers. We talk about ways the balcony-view in the sky can affect the outcome of critical incidents on the ground, some pursuit and medevac stories, and things senior leaders need to understand about commanding a specialized unit. 
FBI Agents Grogan and Dove tragically lost their lives in the infamous shootout in Miami between multiple FBI Agents and 2 bank robbers. The lessons learned, and technology that arose in the aftermath are still felt to this day 30+ years later. Jim and Mike are joined again by Vince and they discuss some of the incident and what changes law enforcement experienced as a result of this tragic shootout.
Keeping bad guys out of your home and away from your family is a core task for anyone serious about defense. Mike and Jim talk us through how to layer your security to make sure you have the unfair advantage.
Sometimes the skills you need to be a professional have less to do with your actual job and more to do with, well, everything else. Put money away for retirement. Have a backup plan. Have a healthy marriage and life at home. Get a hobby. Taking care of your own wellness and the people around you are what help you be a high-performer at work. All the knife hands and shooting drills in the world won't help you be successful if you don't show up to work in a state of mind to focus on all the cool stuff.
Ryan Wyatt is a flight paramedic who has worked on air and ground ambulances, in a trauma center, and overseas. After time spent as a Navy Corpsman, Ryan also deployed to Iraq as a private military contractor flying on Littlebirds doing medevac work. Hear about the time his Littlebird went down behind enemy lines and more.
Countries, terrorist groups, and various shady actors have developed their information warfare capabilities into an effective weapon. They are counting on you to be a sucker – Jim & Mike will help calibrate your BS detector to keep them from wielding active influence measures against you.
Admit it, people like us tend to be "tactical" hoarders. But if you want your gear to actually be functional when the time comes that you need to use it, you have to put hands on it from time to time. Make sure your screws are thread locked, check your zero on your optics, pack enough water and socks, etcetera. Like any TacTangents episode it's not just about your gear. This also has a lot to do with things like leadership, personal responsibility, and risk management. 
Learning about emergency medical care is more complicated than knowing how to slap on a tourniquet and a chest seal. Understanding the importance of getting your patient to a trauma center ("Bright lights and cold steel") is a good first step in establishing priorities of work when minutes and seconds matter to a person who is seriously wounded. This episode is a starting point to help steer your training and treatment philosophy for trauma medicine. Listen now to learn more.
"Noner" shares some real talk about training fallacies and mental preparation for combat. Mike Pannone of CTT Solutions spent years as a Recon Marine, Special Forces Soldier, and SFOD-D Operator. After losing an eye from a blast injury he medically retired and worked as a high-risk contractor overseas and now spends most of his time training people all over the world. "Noner" shares some pearls of wisdom related to mental conditioning, theories and assumptions in tactics, and skills competence.
Jim explains how to analyze, exploit, and change the terrain you are fighting in to gain an unfair advantage over your opponent – whether in a parking lot or a battlefield. Walking you from Thermopylae to the Taiwan Straits to the engine block of your police car and the desks of your classroom, we help you assess and understand your operating environment.
With some reasonable preparation, proportional to your personal risk of having to fight at night — you can use the darkness to gain and maintain gross overmatch. Start by sorting out your own personal risk, which should drive your investment in training and equipment. Consider both technical and non-technical ways you can improve your ability to see and screw with your adversary's ability to see.
Traffic stops are dangerous and unpleasant. A lot of forces converge to make traffic stops dangerous: cops get killed on traffic stops, so they are anxious about them, some communities feel unfairly targeted and perceive a risk from the police, and everyone is at risk to distracted and drunk motorists passing by the stop. No one likes being pulled over, especially if they don't trust the police. There has to be something we can do to make this whole thing safer and easier for everyone
The subtle, contextual cues that guide our instincts are often tough to put our finger on, but they are also the reason we might approach one person or situation differently than another. The last thing we want to do is leave those decisions up to someone else's interpretation. It is difficult to teach what stress, deception, and threatening body language look like in training.
One of the key flaws in civilian tactical training is how much time and effort we put into shooting and fighting skills and how little time and effort we put into conflict resolution. If all we teach is shooting, and the one tool in your "toolbox" is carbine skills, then the whole world might tend to look like a shooting range to you. That is a dangerous habit pattern…
In July 2016 a police officer in Minnesota stopped a car and the driver informed the officer that he was armed. The driver was apparently reaching for his wallet, but the officer perceived that he was reaching for the gun. The officer gave him instructions to not reach for it, the driver said that he wasn't, and somewhere in the mix the officer shot and killed him. The driver's name was Philando Castile. The officer was charged with manslaughter but was acquitted by a jury. He was fired by his agency.
Poor writing kills cops. It kills cops because it doesn't play well in the media or in court. That stilted pseudo-professional way of writing in passive voice makes cops sound intentionally opaque, robotic, and incompetent. Bad writing invites scrutiny, ridicule, and enhanced oversight by people who are far-removed from tactical reality…
Every gun guy (and lady) has thought about how they might have to confront an intruder coming into their house.  Too many times, when talking home defense, I have heard the conversation go to that universal language of the pump shotgun
3 Key Lessons from Tactical Aviation In my military career, I have sat through A LOT of training....
One of the patterns we have noticed lately is how intense the tactical community's relationship with fads can be. The Sheepdog analogy is a useful way to help a young soldier or cop begin to understand that they have to be prepared to do violence, but in a constrained way. It tends to fall apart when taken too far, though. The Spartan legacy is useful in inspiring toughness – but that doesn't mean you have to run around wearing a helmet and shield. In the tactical training telephone game, good ideas can morph into rules and then into obsessions, and in the process, they can lose their utility. One of the big ones is the 21-Foot Rule.
One of the popular models in tactical decision making is the OODA loop, which stands for Observe, Orient, Decide, Act. A lot of people tend to over-simplify this concept. They view it as a linear cycle, or a checklist–as if you move from one step to the other. It is a lot more complicated than that. Our individual orientation–which is a product of our identity, training, experience, and our moral compass–drives each step of the process. It controls not only what we see, but where we look. It controls not only what we decide, but provides us with an index of solutions. It describes a two-way interaction with our environment, and shows us that our adversaries have an Orientation, too.
SPHERES OF INFLUENCEI was at an instructor conference last week and it occurred to me that police...
read more
BACKUP GUNS: YAY OR NAY?Back in the day, I carried a secondary gun at work because, well, I guess...
read more
MANTIS: IMPROVING YOUR SHOOTING WITH DATAWe are excited to announce our new sponsor, Mantis. The...
read more
"THE GLANCE IS THE BEEP"I want to convey a great teaching point that I learned from John Correia...
read more
USE OF FORCE IN SELF DEFENSETrying out a new format for the bulletin, we need your feedback! Leave...
read more
CAREFUL WITH THAT THING!There's a video going around that shows a group of officers clearing a...
read more
FIGHT OFF THE X: Tactics for actions upon contact with a lethal threat in an ambush have remained relatively unchanged since I began my professional life in a world where something like that was a reality…
read more